"Here's one of the things I learned that morning: if you cross a line and nothing happens, the line loses meaning. It's like that old riddle about a tree falling in a forest, and whether it makes a sound if there's no one around to hear it.
You keep drawing a line farther and farther away, crossing it every time. That's how people end up stepping off the edge of the earth. You'd be surprised at how easy it is to bust out of orbit, to spin out to a place where no one can touch you. To lose yourself–to get lost.
Or maybe you wouldn't be surprised. Maybe some of you already know.
To those people, I can only say: I'm sorry."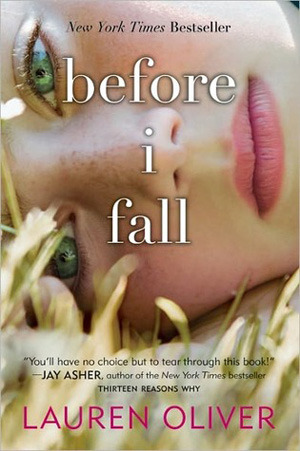 I can't remember who told me to read Lauren Oliver. I do remember that when I found her I tore through two of her books back to back. They were good. I then took a beat and picked up this one. This was great.
Sam is your typical popular kid. She's kinda mean, kinda a jerk. But she's also who you wanted to be. At least- you wanted to be the one laughing as she points out. Then she dies. Then she wakes up. She lives this life over and over trying to get it right. Sam's progression is interesting. At first she's okay but you don't love her. Then she devolves and just says fuck it. Which you can appreciate. And then she gets it together. Total redemption.
I'm kind of obsessed with alternate universes. I love the idea that in other existences I just made different choices. Some small, like I'm not wearing this sweater (bad idea, this sweater is super warm and cozy) and some big- like that time in the apple orchard when I was driving a golf cart and almost flipped. In that universe I think I'm paralyzed.
GoodReads: 5 stars. It's probably a 4.5, but I like to be generous.
Recommend: I mean… it's chick lit. And if that's okay with you- then YES.