"If you really love someone,' Claudia continued, 'you have to be prepared to accept them as they are. Maybe you hope that one day they get a wake-up call and make the changes for their own reasons."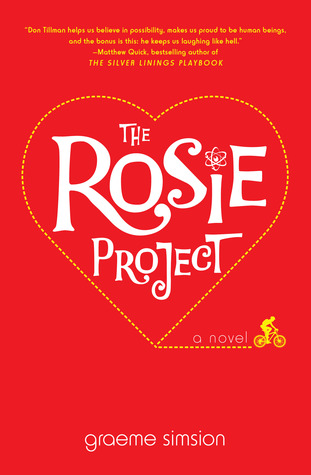 I had heard good things about this book, and put it on my 'to be read' list for awhile. Then my Grandmother died. Grandma was a voracious reader. She probably didn't have to google voracious to make sure she was using it in the correct context. My Grandmother tended to prefer serious books though. Works of art. Where the words wove a fine web but honestly were sometimes a little hard for me to sift through. I saw this one on her bookshelf after she died (along with the sequel) and claimed it as my own.
The Rosie Project is funny. It's sweet. It's entertaining. It applied very specifically to my own line of work and I also got a chuckle out of that.
Don Tillman is a professor of Genetics. He decides he is ready for love and approaches it the only way he knows how- with science. While the plot, the climax and the outcome become immediately obvious it did not take away the enjoyment for me at all. It was a fast read start to finish and will definitely be one that is re-read again and again. I loaned it to my Mother and that thief never returned it. Big huff.
GoodReads: 5 Star
Recommend: Oh, everyone. To everyone.